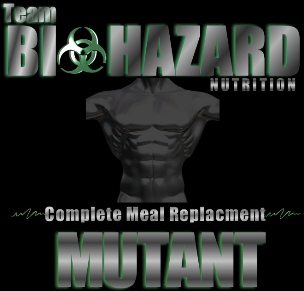 MUTANT2
The Mutant 2 is an MRP far ahead of anything else, far ahead of its prototype; The Mutant, which the diet company Cambridge Foods made for us. No reflection of Cambridge Foods, they made it to Paul's original specification. Simply that the specification for the Mutant 2 is better. Adding in soy and wheat as we did for Ravager .

The difference is that The Mutant 2 is a meal replacement and the formulation is designed to blend with milk. For this product we have taken the amino acid structure of milk into account and balanced the protein blend to fit in with this. If you wish to mix The Mutant 2 with water then you must add 6 UXB capsules. Mix it with milk and it is totally balanced.

The Mutant 2 is a meal replacement, not a protein alone. It has protein, carbs, fats, soluble fibre, vitamins, minerals, co-enzymes, vital anabolic and anti-catabolic factors. It is high in l-glutamine, l-taurine, and all the priority amino acids. It is a balanced meal rich in macro and micro-nutrients tailored for muscle tissue construction. It can be used to replace meals or if you need to increase your food intake but cannot fit any more solid food down! It can be used this way for mass gain or you can substitute large meals and use it as part of a diet regime. It needs to be pulled two weeks before a bodybuilding show however. Ravager VI can be taken all the way in.

A LOOK AT THE MEAL

Two scoops constitute a 75g serving if this is blended in 1 pint of semi-skimmed/half fat milk. Here is what you get:

* Kcals 600
* Protein 60g
* Fat 6.7g
* Carbs 75g
* L-Glutamine 18.8g
* L-Taurine 11.1g
* Creatine 1.1g

That is a strong meal. You can boost calories with Cerberus, you can boost protein by adding Ravager. If the truth be told we prefer you did not interfere with the formula and simply use more or less of it to meet your needs. This is why we stopped the sachets and returned to tubs; it's not so pretty but far more practical.

SUGGESTED USE OF THE MUTANT 2

For mass building work in 2-3 scoops per drink per day as extra meals.

For fat loss replace your largest two meals

If you cannot get to food then The Mutant 2 is a great substitute.

DO NOT REPLACE ALL YOUR MEALS WITH THIS OR ANY OTHER MRP!

Comes in in Chocolate, Strawberry.
PRICE £29.95